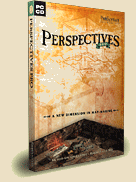 Perspectives Pro Detail
The Perspectives Pro add-on for CC2-Pro enables you to rapidly and simply create realistic 3D isometric views of your floorplans. Perspectives Pro is very easy to learn, yet powerful.
You can:
Draw floors, walls and rooms directly in isometric view.
Create textured surfaces using predefined settings.
Create your own textures.
Add solids and holes using cones, cylinders, 3D boxes and polygons.
Add a wide variety of symbols.
Create your own Per Pro symbols.
Convert existing 2D plans to Perspectives Pro.
Give 2D objects depth by extruding them.
Creating a Perspectives Pro floorplan...
Pick the texture and color scheme to use for surfaces. You can combine any number of surfaces within a single map and create your own textures. (45 seconds)


Choose how you want front walls to be drawn. Front walls can be full height, reduced height, wire frame, or missing. This allows you to "see through" front walls, so they do not obscure the rooms behind. (30 seconds)


Use the Wall, Floor and Room tools to build the basic floorplan. Click as many corners as you like, then click the height. Per-Pro creates and shades all the surfaces for you.(1 minute)


Use the geometric shapes, such as 3D Box, 3D Polygon and Cylinder to add any platforms within the room. (30 seconds)


Place any symbols you want. Wall mounted symbols, such as doors, windows, pictures and levers, automatically sheer to match the wall. Floor mounted symbols come in four rotations, easily selectable using the arrow keys. (5 minutes)

If you need a symbol not already in the 1000+ included with Perspectives Pro, use 3D tools such as 3D Project and Solid Extrude to create your own 3D objects.
Total time taken, 7 minutes 45 seconds.
Time to learn, half an hour.
System Requirements:
A licensed, working copy of CC3
80 MB hard disk space
The download and boxed versions both include:
Instant download of Perspectives Pro
The Perspectives Pro user's manual in Adobe PDF format
Entitlement to download free update packs from the web
90 days web-based technical support
The boxed version also includes:
Perspectives Pro user's manual booklet
Perspectives Pro CD-ROM