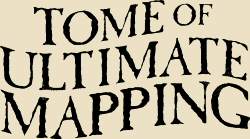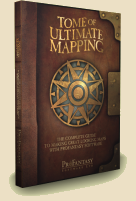 The complete guide to making great maps with ProFantasy software.
Whether you are a new user or an expert, this all-in-one 619-page updated Tome will give you tips and techniques to make better maps with Fractal Terrains 3, CC3 and all add-ons.
The Tome includes the collated wisdom of many expert map-makers. It gives you unrivalled access to new cartographic styles that will increase the attractiveness and utility of your maps. Beginners will appreciate the extensive tutorials giving a gentle introduction, while power users will get the most from the command reference and macro information.

The Tome is a pdf download version, cross-referenced and bookmarked. The Tome includes over 70MB of support files; example maps, symbol catalogs, tutorial files and templates.
Buying the Tome gives you free updates to the PDF version and support files, so can keep up with our development.
Compiled by Master Mapper Remy Monsen and with contributions from the likes of Allyn Bowker and Ralf Schemmann, creator of Source Maps: Castles!, the Tome of Ultimate Mapping is any cartographer's essential companion.